Story told by: Brody
We've had a fun few days with all of the Halloween festivities!
Monday morning was my first-ever preschool pumpkin party (and Henry's second (and last!!) pumpkin party)!
Henry and I did our first few activities together.
Decorating cookies! Mrs. O'Loughlin even made Henry his very own egg-free cookies because she's the BEST EVER!
After that, Henry wanted to move at a much faster pace, so he did his own games, while I requested that Mommy come around with me.
We did run into Henry at one point.
He was all about collecting the snap bracelet prizes!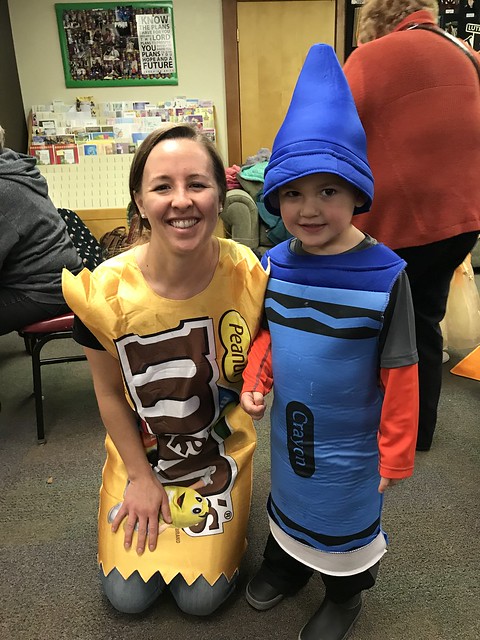 My wonderful teacher, Mrs. King.
We joined back up with Henry at the face/hand painting booth.
Henry opted for a bat!
I asked for a purple Santa Claus (that's season appropriate, right?). Unfortunately before it dried, I accidentally wiped it all over Henry's crayon costume. But neither of us were too upset about it, so Mommy took that as a win.
Henry's wonderful teacher, Mrs. O'Loughlin.
On Monday afternoon, I made some Oreo bats for my class for Nocturnal Day.
And on Tuesday morning, I got to go to Nocturnal Day! Everything was very dark, and we got to wear PJs and bring a stuffed animal, a blanket, and a flashlight.
We got to make shadow puppets on the ceiling.
On Tuesday afternoon, Lainey and Henry made treats for their classes. Bats again for Henry's Nocturnal Day (which was happening a day later than mine).
And spiders for Lainey's class because they've been learning about spiders.
Today we woke up very excited for Halloween! Lainey and Daddy got to start the day with Doughnuts with Dad at Lainey's school.
Henry got to go to Nocturnal Day and had a blast!
Henry and I both were very proud to wear our raccoon pajamas to Nocturnal Day because raccoons are nocturnal!
And after waiting alllll day, it was finally time for trick-or-treating!!
Mommy had a friend tell her about a house that gave out big candy bars, so we went there first.
And we were not disappointed!
We took our crayon box with us to each house!
Then we met up with Rowan's family for more trick-or-treating.
The rain held off until the last ten minutes of the night. Daddy wasn't bothered by it, though, because he had our crayon box to use for cover.
When we got home we dug into our candy.
There were quite a few houses with full-size candy. Lainey got six big candies! Colton residents, you treated us well!