**Mommy and Daddy just got back from a cruise to Alaska. We're going to let Mommy take over the blog to tell this story.**
Story told by: Mommy
We just got home from a KID-FREE CRUISE!!!! to celebrate our ten-year wedding annivesary! It was incredible!! We drove to Tacoma to leave the kids with Roland and Melissa (who are the BEST!), and the next day they dropped us off to start our cruise.
Day One:
We sailed on the Emerald Princess.
We arrived at our room to find anniversary decorations! (Our stateroom steward, Vinoth, was the sweetest guy!)
Haven't even left Seattle yet, and a Moscow Mule is already in my hand.
We were joined by some of our very best friends, Karl and Victoria, who are also celebrating their ten-year wedding anniversary this summer.
Once the ship set sail, we met for dinner. And started the tradition of two desserts per person. A good tradition to start!
We met outside for an evening movie.
We had not appropriately planned for how cold the wind would be with the ship moving, so thank goodness for blankets.
After the movie, we went down to the Yes/No Game Show. The goal is for the host to get the contestant to say "Yes" or "No" in three minutes. It sounds easy, but is surprisingly hard. Many guests were out within the first five seconds. But Kylan was called up and ROCKED it! You have to watch this!
Day 2:
We slept until 9 a.m. (glorious!!) on the second day, and then started our annual game of Mexican Train.
Vic and I got in a good afternoon workout.
Bought books for the kids.
Explored the boat.
And played bocce ball.
We had our formal night tonight.
And while waiting for our dinner, we had a snack. Because why not?!
Before we left Roland and Melissa's house, I mentioned that I didn't have a clutch for formal nights. Melissa brought out the most glorious clutch I've ever seen (and reduced me to tears of laughter). I proudly wore this clutch for our formal nights.
One of my favorite desserts of the trip – a hazelnut chocolate crunch cake.
The perfect sunset.
Day 3:
One of our favorite parts about the cruise was waking up in a new place each day. We woke up to beautiful Ketchikan, Alaska.
Our first stop was to see some lumberjacks.
These guys are pretty darn talented.
We seem to have temporarily forgotten about our husbands.
We had such incredible weather, so we enjoyed just wandering around town and buying some souvenirs for the kids.
Beautiful views before leaving Ketchikan.
Heading out!
Kylan got a beautiful panorama photo as we left port.
Kylan got in some great afternoon naps on this trip.
We went to a fun comedian after dinner.
And a production show after that.
Day 4:
We woke up this morning in the Tracy Arm Fjord. It was foggy in spots, but still gave us some beautiful views.
This moment of sitting under blankets, drinking coffee, and looking at gorgeous glaciers was a highlight of the trip.
The view from my elliptical machine while sailing through the fjord. Not too shabby.
Bananagrams winner!
And two plates of desserts that I attempted to eat for a snack. And although I really tried, I couldn't even eat half of it.
We arrived in Juneau this afternoon, and took an excursion to see the beautiful Mendenhall Glacier. The blue color of the glacier was gorgeous.
We had some sprinkles of rain, but nothing too awful during this excursion.
After a fun time at the glacier, we were dropped off at Mount Roberts Tramway.
It was raining quite a bit at this point, but we still had some cool views of Juneau.
Kylan and I took a hike through the trails at the top of Mount Roberts.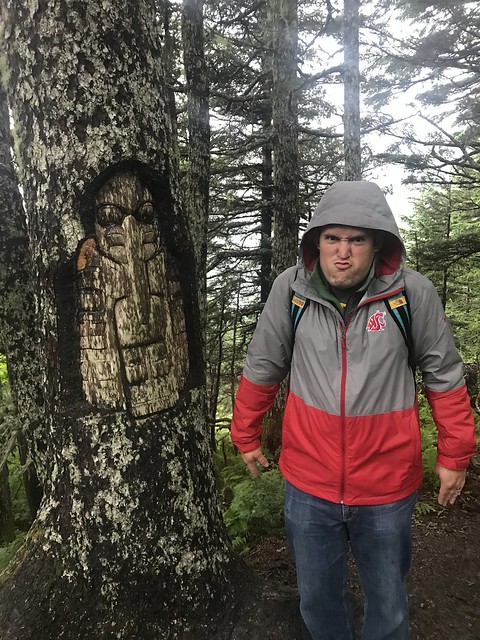 After coming off the mountain, we checked out the coolest bar, Red Dog Saloon.
Day 5:
We woke up to very rainy Skagway, Alaska. Our original planned excursion to hike on a glacier was canceled due to "operational reasons," so we scrambled to find a new tour that wasn't booked. We happily landed on an ATV tour. That meant we took a 45-minute ferry ride from Skagway to Haines.
We had all of the provided rain gear on for the ride, but fortunately we had a fantastic break from the rain for the tour.
Kylan was the fearless driver!
This is the point of the trip where Karl started sneaking in selfies on my phone when I asked him to take a picture. Here is Karl Selfie #1.
We had to take the tour guide's word for it when he said there was a beautiful view behind us.
We got to check out a beautiful spot for salmon spawning.
As we were getting back on the boat, the clouds started to disappear and the beauty of Skagway was revealed!
And then we all went to shower because we were covered in mud from the ATV excursion.
We got in some great reading on this trip.
Today was Vic and Karl's actual anniversary, so they went to a special dinner, and we had our own evening together.
We received a special dessert for celebrating our anniversary (which was actually June 14, but they knew our anniversary was the reason for this trip).
The coolest thing about our dinner was that we got to observe a Chef's Dinner happening next to us. Apparently you can pay a bajillion dollars to get one Chef's Dinner per cruise. It was an eight-course dinner where the chef came out to introduce each course, each person at the table had their own waiter, and the courses were incredible. We actually took our sweet time at dinner so we could watch this unfold.
We ended our night together with live music.
Day 6:
We all agreed to a lazy morning today since we were at sea all day, but as soon as we woke up, we were starving, so we hopped right out of bed for another delicious breakfast.
We had some time to ourselves after breakfast, so we went to the top deck to read for an hour, and then I got in a workout while Kylan did the sauna and steam room. It was one of my favorite mornings of the cruise.
We finished our game of Mexican Train after lunch.
Karl was the winner, and I was the biggest loser.
Tonight was another formal night.
It's really fun to see everyone on the ship dressed in their fancy clothes.
Kylan tried escargot for the first time.
After dinner, we had the Baked Alaska Parade by the wait staff.
If you're on an Alaskan cruise, you've got to have the Baked Alaska for dessert.
After dinner we went to wait for Family Game Show to start.
And then I was chosen to participate in the Jones family.
It was a pretty fun event!
We had to listen to music, and then once they turned the song off, we had to complete the lyrics. I laughed when this game came up because I am HORRIBLE at knowing the lyrics (but give me a tune to hum, and I'm good to go). Thank goodness my teammates came through for each song.
After several games, we were declared the winners. Here is my family with our prize bags!
Another incredible sunset that night.
After my game show was done, the Piazza cleared out for a dance competition. It was one of the funniest things we watched the entire cruise. LOVED it!
And then we ended the night with another late game show. I introduced Victoria to Moscow Mules on this trip, and now she's hooked!
Day 7:
We had a majority of today at sea, so I got in another workout while Kylan did the sauna and steam room. After breakfast, we had some time to read again.
Karl and Vic brought a fun game to play that afternoon.
Karl Selfie #2.
That afternoon we watched "The Voice of the Ocean." Throughout the week, guests had been narrowed down to the top eight, and then the audience got to vote on the winner after watching them sing. It was really fun, and there was some great talent!
Karl Selfie #3.
We had a quick stop in Victoria, Canada from 7 p.m. to midnight. I've never been to Canada, so we had to get off to explore!
We took a bus to explore the beautiful Empress Hotel.
And then we kept exploring downtown. I absolutely LOVED this city.
Karl Selfie #4.
A cruise staff member recommended this Irish pub, so we made sure to check it out. Kylan tried some delicious beer.
And we all shared some delicious poutine because it's a very Canadian dish. (We would have eaten more, but we were STUFFED from our last big dinner on the ship. If we had known all the delicious food we would encounter in Victoria, we would have paced ourselves a little better.)
The legislative buildings of Victoria are beautiful at night.
Day 8:
The dreaded last breakfast.
Our final picture as we line up to leave the ship at 7:30 a.m. We are SO grateful we could go on this trip with some of our best friends. The sights were great. The food was great. The entertainment was great. And the friends were great. Such a refreshing week!!!
The kids met us in Seattle at 9 a.m., and then we started driving home straight from there. Here is our stop in Ellensburg for lunch (where Brody threw a five-minute fit in the bathroom the entire restaurant could hear…it was a quick snap back to reality).
Lainey and Brody modeling a couple of the gifts we got them. (Henry also got a coonskin hat, but was throwing a big fit during this picture. Again, another dose of reality.)
None of this incredible trip would have been possible without Roland and Melissa offering to watch the kids for the week. The kids had such a blast they didn't want to come home. They went to the zoo, did crafts, went bowling, went swimming, visited parks, went out to eat, and ended the week with a two-day camping trip. Incredible! Here are a few of the pictures of their week.
Roland and Lainey made slime.
Melissa took the kids to the zoo on Monday.
The kids loved this special bowling alley. They said it was like swimming with the fish.
One of their favorite things was the gnome that moved places each morning. They would rush outside to find it.
Gnome sightings.
On the last morning, the gnomes left them a special little note. Such a fun week for these kids. Thank you, Roland and Melissa, for one of the highlights of their summer (and also our summer)!!