Story told by: Lainey
As soon as Mommy and Daddy got back from their trip, we got right back into the swing of things!
We had fun building a fort one morning.
Peekaboo! (This lasted for about five minutes, and then Henry destroyed it. Mommy helped me rebuild it, and banned Henry to the other side of the room.)
We have early mornings around this house. Mommy tries to tell us that we don't have to wake up early, but since we wouldn't want her to have too much time to herself, we drag our exhausted selves out of bed and allow her to make us breakfast.
Brody is getting into everything!
He's also not napping very well because of his ear infection, so he takes the afternoon shift in order to make sure Mommy and Daddy don't get a single moment to themselves. (It's a team effort, so I'm grateful my siblings are 100% in it to win it.)
Brody is big enough to take a bath with us now! I love giving Brody toys to play with, and Henry loves waterboarding him.
On one of my first days back to preschool, we had a veterinarian visiting us. He asked us to bring a stuffed animal in so he could help us nurse it back to health. I chose the largest stuffed animal I own.
Mommy walked into the room one day and found me reading with Brody. Not to brag, but I'm pretty good at this big sister stuff.
We love getting together with friends. Willa came over recently, and we all dressed up like princesses.
Henry was especially dazzling as Belle.
We've had some days with temperatures in the 50s, so we made sure to get outside to enjoy it! Henry loved telling me where to take him in his truck. "Take me that way!"
We LOVE picnics, so it was fun to have our first picnic of the year (and a bus sighting was an added bonus).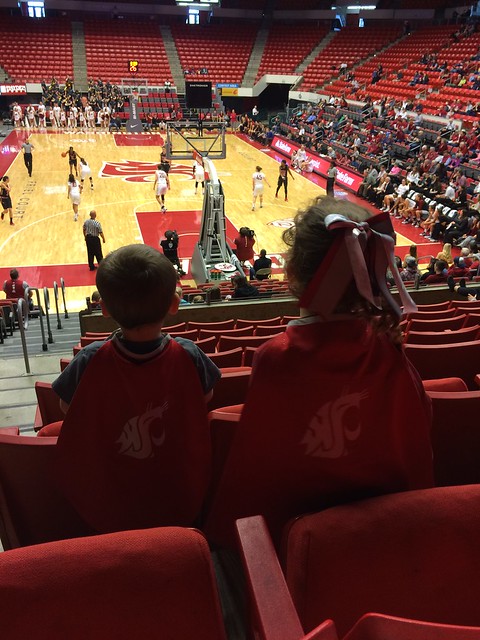 We went to see the Cougar women basketball team play their last home game today. We wore our Cougar capes to cheer them on.
Unfortunately the Cougs lost in the last seconds of the game, but we still found ways to entertain ourselves (and to keep Mommy and Daddy from watching too much of the game).
After a fun family day of Cougar basketball and a trip to Costco, we came home for a family night that involved eating pizza and watching "The Good Dinosaur."
A quick silly picture before we started the movie. What a refreshing and fun Saturday together!